World No.1 and challenger Magnus Carlsen of Norway moved closer to the crown when he won game nine with the black pieces in 28 moves to take an unbeatable 6-3 lead in the 12-match series at Hyatt Regency Hotel in Chennai on November 21.
Carlsen needs a single draw from the three remaining games to win his maiden world chess title. If he does it he will become the 20th player and first Norwegian in the history of world chess to win the title.
Anand needs three wins from the three remaining games to force a tie-break. "The situation does not look so good," confessed Anand. Anand had been world champion in 2000 to 2001, then from 2007.
For the record, the last time a player won three games in a row in a world championship was Anand in 2000. Karpov also won three games in a row against Kasparov at St Petersburg in 1986.
Carlsen is well placed and experts expect him to win the title on Friday. Carlsen won three games and six were drawn. Carlsen leads by 6-3 and Anand is yet to win a game. He could still win one black game on Friday and delay the Norwegian celebrations.
"The position was extremely imbalanced. Fear of being mated was there," said Carlsen speaking after the game in a crowded press conference. Carlsen had spent the free day yesterday at the beach resort playing basketball and swimming.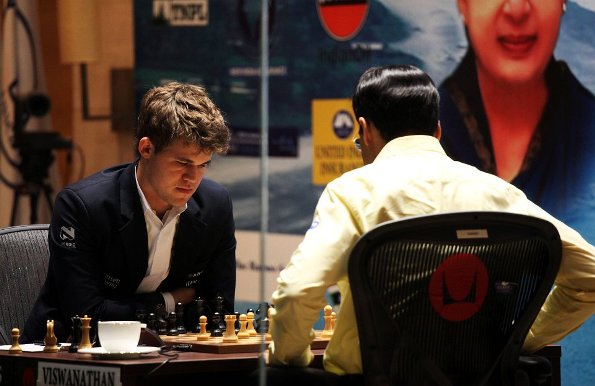 Anand and his team had prepared for this in the free day yesterday. The position was promising. After 27.Rf4 black promoted the pawn. Anand's final blunder on move 28 ended the game as he was losing a rook.
The players arrived to applause from the audience. When Anand moved 1.d4 which was expected, once again the audience applauded. Anand had moved clearly from 1.e4 to 1.d4. Carlsen had played the Caro-Kann in game one and then played the Berlin variation of the Ruy Lopez in the other games with solid play.
Unable to break black's defences, Anand was expected to move to 1.d4 in the previous white game. Having had to calm himself with a draw after defeats in game five and six, Anand decided to do so with 1.e4 and keep the 1.d4 more like a surprise in this game.
Carlsen played the Nimzo-Indian defence. "We came here expecting an Anand win," many Indian grandmasters like S Kidambi, Deepan Chakkaravarthy.
Anand played 10.g4 and went for aggression from the word go. Being in a must win situation did not help him much.For his 23rd move, Anand took over half an hour. On the 28th move, Anand had a draw but blundered with Nf1.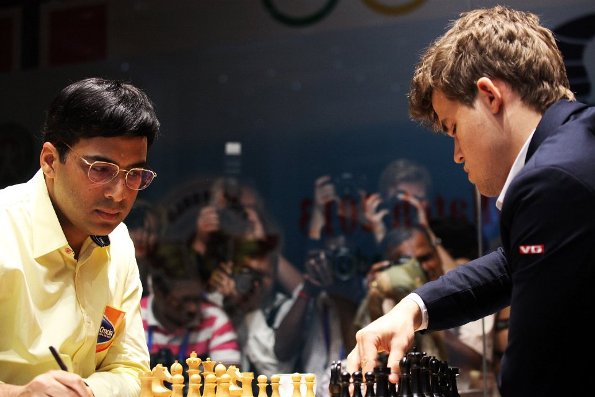 "There was not much of choice," said Anand after having to play an aggressive line today. "I needed to change the course of the match drastically," said Anand.
The prize money for this match will be 2.55 million dollars. The winner will get 1.53 million dollars and the loser will receive 1.02 million dollars.
All India Chess Federation Press Release November 21, 2013
Replay: Live game G9 / All games with analysis
Videos: Live video G9 / All videos here
Photos: Gallery G9 / Gallery G8 / Gallery G7 / Gallery G6 / Gallery G5 / Gallery G4 / Gallery G3 / Gallery G2 / Gallery G1 / Gallery Opening
News: All news and reports (chronological)