Game Ten Press Conference, Part 1

After the tenth game, both players spoke to the media separately and were also together for a few minutes.
Q: (FIDE Press Officer) Your general review of the match?
A: (Viswanathan Anand) I was trying to keep playing. At some point started to make mistakes. I simply blundered Qg5. I saw the same tactic for Qc5 but I simply put the queen on g5. And the same e5 happened. I simply don't know the evaluation after that. This knight ending is very dangerous.
As the match in general, it is clear that he dominated. At the start of the match I thought my chances depended on my ability to last long games without making a lot of mistakes. This year I had lot of problems creeping into my play. I kind of try to pay some attention to that. In the end it was in vain. The way I lost the fifth game is the way I thought I could not afford to lose. A fine position in the opening, then a slip. The fifth game was a heavy blow. I really hoped not to be afraid of him in long games but simply match him. This was not to be.
After that it became worse and worse. I guess when it rains it pours. It is fair enough to congratulate him. My mistakes did not happen by themselves. Clearly he managed to provoke them. Full credit to him.
Q: (FIDE Press Officer) Carlsen has also joined up. It is an important moment in history. We have a new world champion. After 3-4 questions we can finish the Anand press conference.
Q: When did it go wrong?
A: (Viswanathan Anand) Things look different at hindsight. At that moment I did not attach excessive significance. I was disappointed that I did not call the position right. Even so it was only one moment when I can take on b2. The other moment I don't think was that serious. It was a little disappointing then. As far as I am concerned, game five was when it all started to go wrong.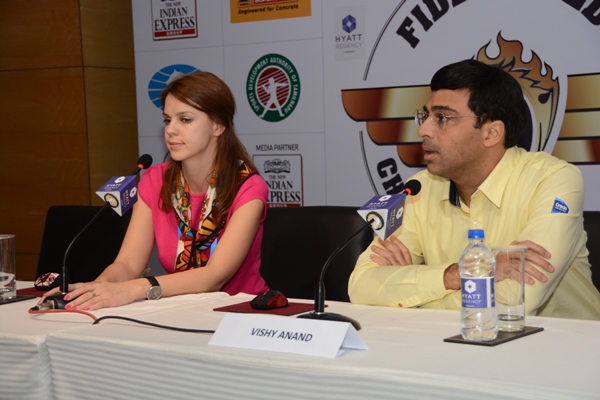 Q: (T.N. Ragu, Deccan Chronicle) Would you have chosen a better successor than Magnus?
A: (Viswanathan Anand) I did not chose him!
Q: (Amit Karmarkar, The Times of India) Not being champion. Does it take the pressure off you? The monkey is off your back?
A: (Viswanathan Anand) It takes the pressure off you! At the same time to want it is also excessive.
Q: (Ashok Venugopal, New Indian Express) We expect you to win the candidates and play Carlsen next year?
A: (Viswanathan Anand) I want to first get some rest. Take stock of what has happened. Come to terms with everything here. At the end of the day, my play in the match was a big disappointment. I did not manage to achieve any of the things I aimed for. I assume I will play in the Candidates. You are going too fast. I will take rest and take it from there.
Q: (T.N. Ragu, Deccan Chronicle) What is your message to your fans? The whole country was expecting you to win?
A: (Viswanathan Anand) Obviously I am disappointed with my play. Despite lot of support somehow my play never got going. I am sorry for them that it wasn't a better match.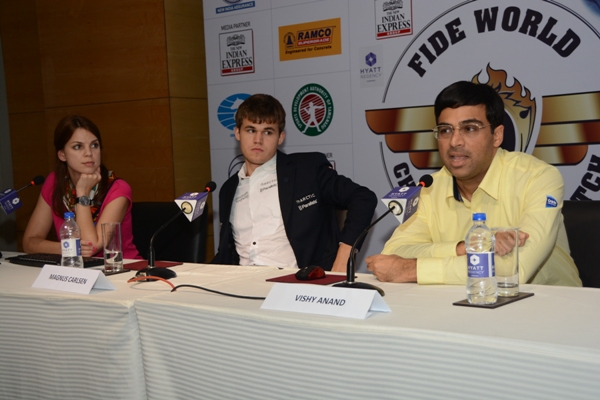 Q: (Peter Doggers, Chess Vibes) Is there anything you regret from things off the board, for example in terms of opening choices or otherwise?
A: (Viswanathan Anand) I had a feeling that this match will be about execution. I had any strategy I wanted. Executing it, holding at the board, seeing it through was its all about. I tried to pay lot of attention to that. This year in tournaments, so many things have gone wrong. I felt that would be the crucial area. Game five was the real low point for me. After that at least you can say that I was depressed. I didn't manage to understand either him or me! I was simply unable to execute my strategy.
Q: (FIDE Press Officer) Before Anand would leave, I would like Carlsen to say something about his opponent?
A: (Magnus Carlsen) Vishy's been world champion for so long. One of the greatest of all time. I am honoured to have played a match with him. Of course very very happy to get the better of him. I really hope he will be back from the candidates.
Game Ten Press Conference Part 2
All India Chess Federation Press Release November 22, 2013