Magnus Carlsen is the challenger of reigning World Champion Viswanathan Anand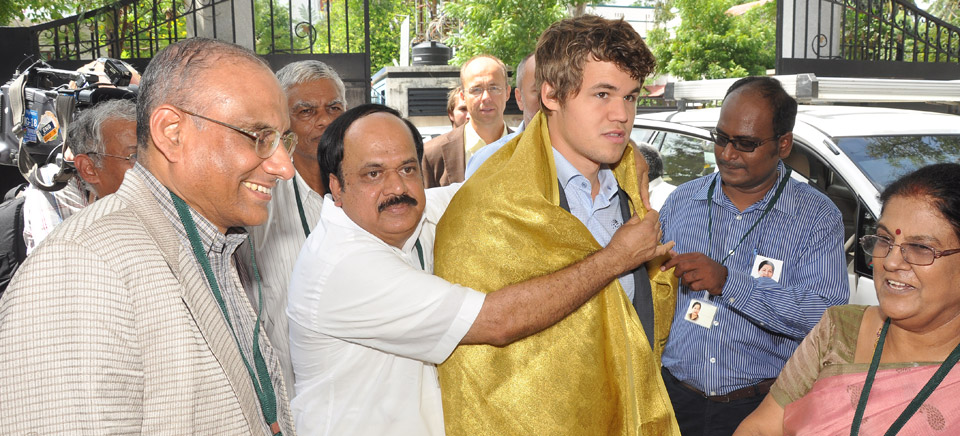 Magnus Carlsen won the Candidates Tournament 2013 after the thrilling finish to become the official challenger of reigning World Champion Viswanathan Anand.
In the last round of the event both Carlsen and the other leader, Vladimir Kramnik, unexpectedly lost their games and remained tied on the first place with 8,5 points each. Carlsen won on the second tiebreak rule – higher number of wins – to qualify for the World Championship Match.
The same evening World Champion Viswanathan Anand wrote on Twitter: "Congratulations to Magnus! He always comes through. Vladimir made a huge impression with his play, but what can you do about this tiebreak?"
The FIDE Candidates' Tournament took place March 14th-April 1st, 2013 at IET London, Savoy Place. It was sponsored by the State Oil Company of Azerbaijan Republic (SOCAR) and organized by AGON and the World Chess Federation (FIDE).
Final standings after 14 rounds:
1. Carlsen 8,5 points (5 wins); 2. Kramnik 8,5 (4 wins); 3-4. Svidler and Aronian 8,0; 5-6. Grischuk and Gelfand 6,5; 7. Ivanchuk 6,0; 8. Radjabov 4,0.