FIDE World Championship – Game 7 Drawn After Repetition

The seventh game of the FIDE World Championship Match, sponsored by Tamil Nadu state and currently ongoing in Chennai, finished in a draw by repetition after 32 moves of play.
The defending champion Viswanathan Anand once again allowed the Berlin Ruy Lopez, despite achieving little against this system in earlier games in the match.
This time Anand quickly gave up the bishops pair to double the black pawns on c-file. Earlier this year he employed the same idea against Karjakin in the Norway Chess Tournament.
But Carlsen deviated on move 6 by getting his light-squared bishop out to pin the white knight.
Anand again allowed massive exchanges that soon brought about an endgame with queens and knights. Neither of the players was ambitious to press on and the game finished with moves repetition.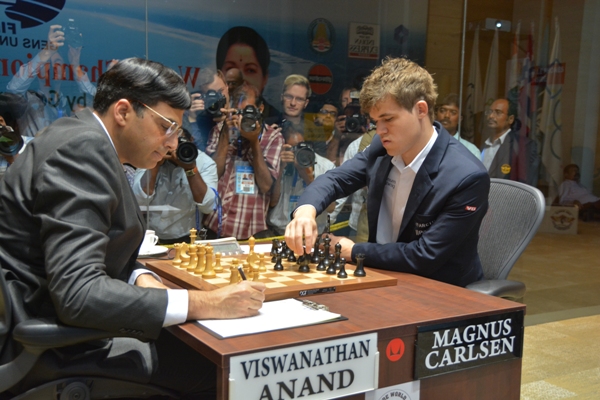 Replay: Live game G7 / All games with analysis
Videos: Live video G6 / All videos here
Photos: Gallery G7 / Gallery G6 / Gallery G5 / Gallery G4 / Gallery G3 / Gallery G2 / Gallery G1 / Gallery Opening
News: All news and reports (chronological)